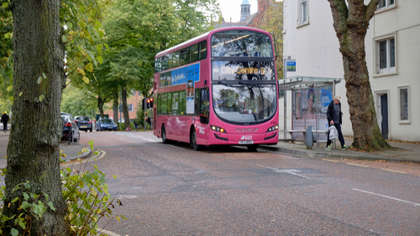 Another bus was hijacked and set on fire at a loyalist estate in Belfast on Sunday night.
At approximately 7.45pm on Sunday at Newtownabbey, four masked men boarded the bus armed with a hammer and a bottle of petrol. After ordering the passengers off the bus, the men forced the driver to head fro Church Road, where they smashed windows and set the bus alight.
According to the PSNI, the suspects are in their 40s and were dressed all in black, with two described as being over 6' tall and another around 5'7".
"This was a distressing and frightening ordeal for everyone involved, and we are thankful that no one suffered any physical injuries," said PSNI Detective Inspector Lenaghan. "This reckless incident also continued to cause disruption for those who live and work in the area this morning, and we would ask drivers to avoid it as we continue to carry out our investigations."
Lenaghan appealed for anyone who may have witnessed the incident or has relevant information "to call our detectives on 101, quoting reference number 1645 of 07/11/21."
Last Monday a similar incident occurred in which a bus was hijacked and set alight in a loyalist area of Co. Down.
The incidents are believed to be a form of protest against the Northern Ireland Protocol.
"It is disgraceful and disgusting that our public transport workers have been targeted for attack again, this time by masked men who ordered the driver and passengers off a bus this evening and then set fire to it," said Stormont Infrastructure Minister Nichola Mallon. "This is the fourth attack this year."