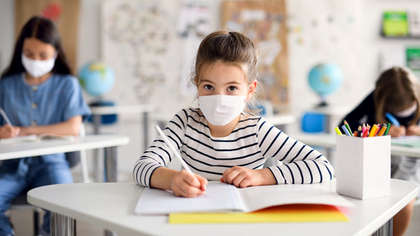 Anti-mask groups have used Telegram and Facebook to spam the National Parents Council with complaints against the need for schoolkids to wear masks.
The NPC say it has received thousands of calls and emails from people claiming to be concerned parents.
Many of the complaints may be legitimate but a campaign by anti-mask groups has been uncovered.
Immediately after last Thursday's government recommendation that school children should wear masks, the NPC received 700 correspondences, with thousands more in the days since.
On Thursday the government recommended that children aged nine to 12 should wear masks indoors. Following this announcement the NPC's contact details were shared on right-wing groups on the Telegram and Facebook platforms, with group members encouraged to contact the council with complaints.
Fine Gael senator John McGahon labelled the complaints as "intimidation" carried out by "disruptors."
The cabinet is meeting today to discuss measures to reduce COVID transmission among children. It's expected that parents will be advised to limit their children's social interactions outside of school.
"I would certainly hope that there will be very clear guidance on mask wearing in schools and that will be very clear advice for parents obviously," Helath Minister Stephen Donnelly said this morning. "The analysis we saw last night shows that it's particularly high in nine, 10 and 11 year olds, and hence the recommendations for masks from third class. The evidence we have suggests that they [masks] really have been very effective, for example, in secondary schools, so we'll be discussing that this morning. And then obviously, parents want to make sure that they're making the right decisions by their children, they're keeping their kids safe. Hopefully coming out of Cabinet we'll have clear guidance for parents as well."