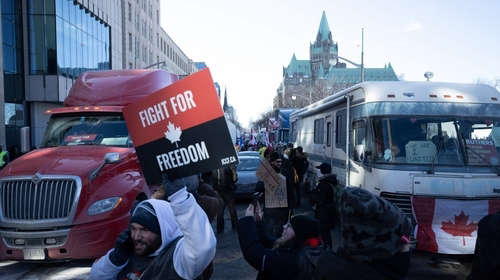 Police in the Canadian city of Ottawa have made 70 arrests in a crackdown on the protest by truckers against the country's COVID restrictions.
Hundreds of protesters, many of them truckers, have been demonstrating in the city since last month, with trucks blocking streets.
When police moved in to attempt to disperse the protesters on Friday night, things turned violent. Ottawa police tweeted that the protesters were "assaulting officers" and attempting "to remove (their) weapons."
Police were criticised for their heavy handed approach, with truckers who refused to leave their vehicles forcibly removed. Some trucks had their windows smashed by police.
Over 70 people were ultimately arrested for what Ottawa interim police chief Steve Bell called "multiple and various offences, including mischief."
"We're in control of the situation on the ground and continue to push forward to clear our streets," Bell said. "This methodical and well-resourced plan will take time and we are here to see it through to a safe ending."
The protesters are demanding an end to Canada's COVID rules, which include mandatory vaccinations in order to cross the US border. The protest is estimated to have cost the Canadian economy billions of dollars.
Canada's Justice Minister David Lametti said the protests "pose an ongoing threat to our economy and to our security."