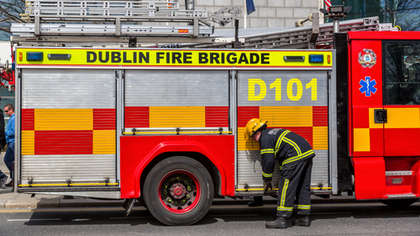 Dublin fire brigade had a far quieter Halloween compared to last year.
186 calls were received by the fire brigade on Sunday, down from 480 last Halloween.
Of the 186 calls, 113 involved Halloween related fires. Last year 323 fires were reported as being related to Halloween.
According to Dublin City Council, most of yesterday's fires did not require intervention and there were few incidents of anti-social behaviour directed towards emergency services.
One fire brigade vehicle suffered damage to its windscreen but no staff were injured.
483 calls were received by the emergency ambulance service yesterday. Among them was one person injured by an exploding firewaork.
"Inclement weather, members of the public playing their part and a significant waste removal campaign by local authorities all helped enormously with fire calls on Halloween night," Dublin City Council said. "We would like to thank everyone who took a responsible approach to the Halloween celebrations and also took heed of our safety advice during the preceding month."
This year saw a significant decrease in the amount of illegal fireworks available in Ireland. Due to global supply chain issues coupled with the effects of Brexit, stocks of fireworks are said to have been reduced by 70% this year.