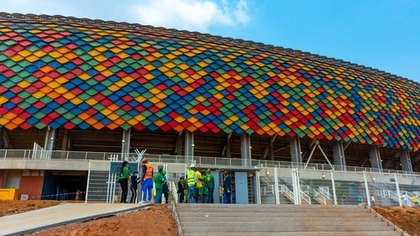 Eight people have died and over 50 left injured following a stampede before Cameroon's match with Comoros in the African Nations Cup.
Tournament hosts Cameroon were set to kick off their match against Comoros in the capital city Yaounde's Olembe stadium when a large crowd attempted to gain entrance.
With the stadium capacity reduced to 80% for the tournament, thousands gathered outside, leading to a stampede when fans attempted to enter the arena through a southern entrance.
"Eight deaths were recorded, two women in their thirties, four men in their thirties, one child, one body taken away by the family," Cameroon's health ministry reported.
50 people were injured in the crush, including a baby that was trampled. The infant is said to be in a "medically stable" condition after being "immediately extracted and taken to Yaounde General Hospital."
"There was a crush as can happen when there is a stampede," said Africa Cup of Nations organising committee spokesperson Abel Mbengue. "We are waiting for reliable information on the number of casualties in this tragic incident."
The Confederation of African Football (CAF) said it has sent its secretary general to "visit the supporters in hospital in Yaounde" and that the organisation was in "constant communication with Cameroon government and the Local Organizing Committee."
The decision to hold the tournament in Cameroon was mired in controversy. Cameroon had been set to host the Cup in 2019 but was ultimately denied the honour when it was decided its stadiums failed to meet the required standards.