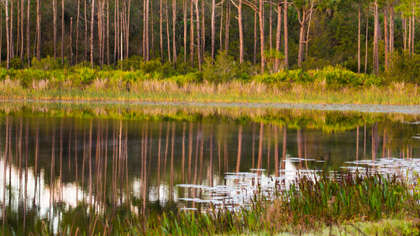 Human remains found in Florida have been identified as Brian Laundrie, boyfriend of murdered travel vlogger Gabby Petito.
23-year-old Laundrie had been considered a suspect in the murder of his 22-year-old girlfriend.
Petito's body was found in September after she and Laundrie had embarked on a road trip across the US.
Earlier this summer Petito quit her job in New York and set off with Laudrie in a camper van. She had been chronicling her journey for thousands of followers on social media.
On September 11th a missing persons report was filed for Petito after Laundrie returned to Florida without his girlfriend. After refusing to discuss Petito's whereabouts, Laundrie disappeared himself.
Petito's body was found in Wyoming on September 19th. She had been strangled.
Footage had earlier emerged from the bodycam of a police officer responding to a report of domestic abuse involving Petito. In the footage she tells the officer she struck Laundrie after an argument and admitted to suffering mental health issues. The officer ordered Petito and Laundrie to spend a night apart to calm down, but no charges were filed.
On Wednesday, human remains were discovered in Florida's Carlton Reserve. They have now been identified as Laundrie. A cause of death has yet to be revealed by authorities.
"Chris and Roberta Laundrie have been informed that the remains found yesterday in the reserve are indeed Brian's," said Laundrie family lawyer Steven Bertolino.