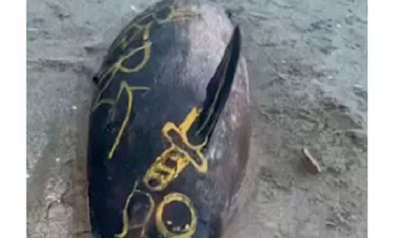 People are in shock as images of a deceased dolphin with grafitti sprayed on it has been shared on social media.
The image was shared via Instagram by MyViewOfIreland, after the dolphin was washed up in Poolbeg last month.
The photographer for the page said that they discovered the dolphin when they were walking on the beach Monday.
"I didn't think it was a dolphin but I went and had a look. I was surprised to actually see it", they said. "It was only when I went around the side of it that I saw all the graffiti all over him".
They also added that seeing the photo of the deceased animal was bad enough, "never mind the graffiti thing". He also described the grafitti as "sickening".
"That just sickened me, to be honest with you", he said. "I was actually floored even the next day. I couldn't get my head around it. How does someone do that?".
"no respect"
Stephanie Levesque is the Strandings Officer at the Irish Whale and Dolphin Group, she was also appalled by this image.
"People have absolutely no respect. It's terrible to see that", she said. Ms Levesque also revealed that the dolphin was first reported to the IWDG on April 27.
Stranded marine animals from the Irish shoreline can be reported to the IWDG. They work to log dead dolphins and whales on beaches.
When reported, volunteers of the charity are sent to get a photo and skin sample, which is sent to the National History Museum. A database records the sample, allowing it to monitor trends and to check for unusual occurences.