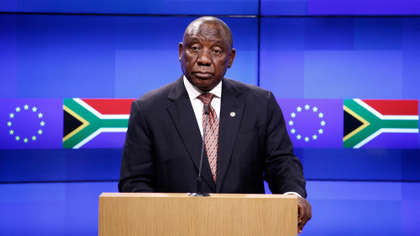 South Africa's president Cyril Ramaphosa has asked countries to "immediately and urgently" remove the ban on travel from his country.
Numerous nations have banned flights from South Africa and other Southern African countries due to fears over a new COVID variant, designated Omicron.
"We call upon all those countries that have imposed travel bans on our country and our southern African sister countries to immediately and urgently reverse their decisions," Ramaphosa said in an address to his public.
Ramaphosa said he was "deeply disappointed" by the international reaction and said the decision to ban flights from his country was "not informed by science."
"Instead of prohibiting travel, the rich countries of the world need to support the efforts of developing economies to access and to manufacture enough vaccine doses for their people without delay," he argued. "These restrictions are unjustified."
Other Southern African leaders have also criticised the international response, with accusations of "Afrophobia" levelled by Malawian President Lazarus Chakwera.
Botswana's Health Minister Edwin Dikoloti believes his country is being punished for discovering the variant, saying he is "concerned that there seem to have been attempts to stigmatise the country where it was detected."
Matshidiso Moeti, the World Health Organisation's African head, said "with the Omicron variant now detected in several regions of the world, putting in place travel bans that target Africa attacks global solidarity."