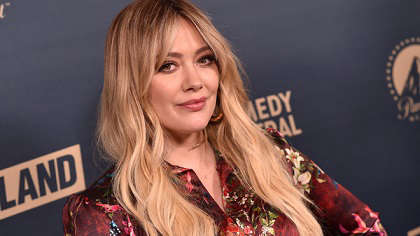 It's been nearly seven years since the 2015 release of Hilary Duff's fifth album, Breathe In, Breathe Out — and the star is ready to make some music again.
American actress, singer, and businesswoman, Hilary Duff, would like to create a new album. The former 'Lizzie McGuire' star has revealed a longing for her return to the studio and would like to gift her fans some new material. However, the 34-year-old admits to being unready for the gig, as she wants to make sure what she creates is "authentic" to her current situation.
Speaking in an interview with Cosmopolitan, Hilary explains; "I'm not working on music right now, but I have been talking to my husband about getting into the studio and starting to stretch the muscles a little bit.
"I really want to, but I need time to figure out what I'm saying, what kind of record I'm making, and who it's for. "But, yes, I want to. "You know how annoying it is to go to a concert, and they don't play the hits? I want to serve people what they want, but I also want it to be authentic to who I am now, and that's very complicated."
The All About You singer's husband is also a singer, songwriter, DJ, and record producer, who penned Grammy-winning hit 'Clarity' by Zedd. Hilary's last studio album was 2015's Breathe In. Breathe Out.
Meanwhile, the How I Met Your Father actress revealed that her daughter Banks is absolutely crazy for her 2015 track, Sparks. The 3-year-old demands for Hilary to play the song on the way to preschool, every day.
She shared: "I can't get away from ['Sparks'] because someone exposed my three-year-old to it. We get in the car, and I have to listen to my own music because my daughter's screaming, 'I want 'parks, I want 'parks.' I'm rolling up to her preschool, and every time I turn it way down, she's like; 'Why do you turn it off? Why you turn it off?' Like, girl. I'm not rolling up to your preschool blasting my own s***. Soooo embarrassing."