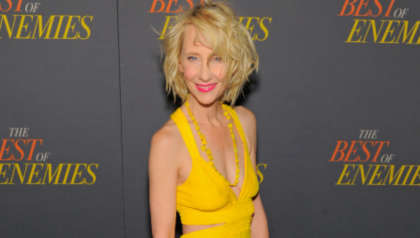 Actress Anne Heche has died, having been involved in a car accident which left her in a coma. She was 53 years old.
Last week (August 5), Anne Heche is said to have driven her car into a Los Angeles home in the Mar Vista area. Having lost conciousness on August 8, her representatives had stated that she was in "extreme critical condition".
The LA Fire Department revealed that the crash resulted in a "structural compromise and... heavy fire", with 59 firefighters required to tackle the blaze.
Her statement released days later by her family, Anne Heche had suffered a "severe anoxic brain injury". They also added that she was not expected to survive the accident.
Sadly, Anne Heche's death was later confirmed. She was survived by two children.
"Anne had a huge heart and touched everyone she met with her generous spirit", Heche's rep said in a statement. "More than her extraordinary talent, she saw spreading kindness and joy as her life's work — especially moving the needle for acceptance of who you love. She will be remembered for her courageous honesty and dearly missed for her light".
Before her death, a representative also added, "It has long been her choice to donate her organs and she is being kept on life support to determine if any are viable. Anne had a huge heart and touched everyone she met with her generous spirit".
"loving, kind fun, endearing"
Following her death, a close friend of Anne Heche, Nancy Davis paid an emotional tribute.
"Heaven has a new Angel", she wrote. "My loving, kind, fun, endearing and beautiful friend went to heaven".
"I will miss her terribly and cherish all the beautiful memories we have shared. Anne was always the kindest, most thoughtful person who always brought out the best in me," adding: "My heart is broken".
Anne Heche is renowned for various roles, including Donnie Brasco, Cedar Rapids and 1998 remake Psycho.