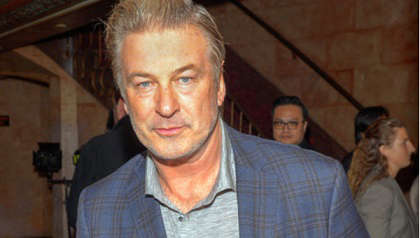 Alec Baldwin has said that it is "strange to go back to work" on his first project since the tragic shoot of cinematographer Halyna Hutchins.
Baldwin is to begin production in England on air disaster film 97 Minutes near Alton.
He has taken to Instagram where he reveals that he still finds it difficult to speaklng about this tragedy which saw his prop gun fatally shoot Halyna Hutchins on the Rust set.
"It's strange to go back to work", he said. "I haven't worked since October 21 of last year when this horrible thing happened on the set of this film".
Baldwin continued, "We had the accident and the death of our cinematographer Halyna Hutchins – I even still find that hard to say".
"But I went back to work today for the first time in three and a half months… it was interesting… I miss my kids".
This comes as Baldwin continues to face two ongoing lawsuits which were brought against him following the tragic shooting of Halyna Hutchins.
Authorities have said that Baldwin's prop gun discharged a live round during a rehearsal. Lawyers working on behalf of Baldwin, have been asking for these allegations to be dimissed.
One such lawsuit was brought against Baldwin by scriptwriting supervisor Miame Campbell. The other suit was brought by head of lighting for the film Serge Svetnoy.
97 Minutes
Directed by Timo Vuorensola, Baldwin's upcoming film 97 Minutes explores a hijacked aircraft falling from the sky in 97 minutes when the fuel runs out.
Baldwin paid tribute to the production team, "Movies are always the same, everybody's young compared to me".
"The crew of movies are hardworking people, they're on their feet all day in an unheated building I might add".