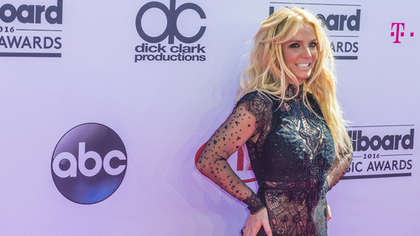 Britney Spears took to social media to tell her fans she was "on cloud nine right now" as she celebrated the suspension of her father's conservatorship of her $60 million estate.
Britney posted footage of a flying lesson she was taking the day after receiving the long-awaited news of her freedom from her father's tight grip.
"First time flying a plane and first time in a prop plane," she wrote. "Geez I was scared!"
The singer's controlling father Jamie has been removed from his daughter's conservatorship. He had controlled her estate for the last 13 years. In 2019 he stepped away from being conservator of Britney's person, essentially controlling her life, while remaining in control of her estate and finances.
After a lengthy court hearing and damning evidence from his daughter, Jamie asked Judge Brenda Penny to end his conservatorship.
Fans gathered in a street nearby the Los Angeles court cheered as the news was conveyed from the court.
Earlier this week Britney's lawyer, Mathew Rosengart accused Jamie of crossing "unfathomable lines" with his illegal surveillance of his daughter, which included communicating with Rosengart.
The allegations were revealed in Controlling Britney Spears, a newly released documentary from The New York Times.
Britney criticised the accuracy of the documentary.
"It's really crazy guys … I watched a little bit of the last documentary and I hate to inform you but a lot of what you heard is not true," she wrote on social media in a post she subsequently deleted. "I really try to disassociate myself from the drama."
Statements presented to the court earlier this year claimed that under Jamie's conservatorship, Britney was forbidden from getting married and having children. Earlier this month Britney announced her engagement to long-term boyfriend Sam Asghari, seeking a pre-nuptial agreement free from her father's involvement.
"What Britney Spears wants, what she needs is her father gone today, suspended out of her life, a temporary conservator appointed for 30-45 days at which point we demand the conservatorship be terminated that day," Rosengart asserted.
The lawyer described Jamie as a "reported alcoholic and gambling addict, with zero financial background or experience in financial matters, who previously filed for bankruptcy and has a Domestic Violence Restraining Order currently in effect against him."
"Based on what I read in the filings, and I read everything, I do believe the suspension of Jamie Spears is in the best interest of Britney Spears," said Judge Brenda Penny. "The current situation is unattainable. The court finds the toxic environment Jamie Spears has created needs to be removed today."
With Jamie suspended, a temporary conservator has been put in place for the next month. Jamie's attorney said his client intends to comply with any requirements.
Termination of the conservatorship completely will be discussed at the next hearing, currently scheduled for November 12th.
Several celebs took to social media to express their joy for Britney.
"Thank God," wrote Cher. "I've talked and prayed about this for years. I'm more than thrilled for her. Bless our superstar."
Thank God✨🌟✨
I've Talked & 🙏🏻🙏🏻'd About This 4 YEARS👏🏼.
IM MORE THAN THRILLED 4 HER🎂‼️
BLESS OUR SUPER 🌟#FREEBRITNEY

— Cher (@cher) September 29, 2021
"This is wonderful news," wrote Dionne Warwick. "She can now breathe. Congratulations, Britney. Enjoy your life!"
This is wonderful news. She can now breathe. Congratulations, Britney. Enjoy your life! 🥰 https://t.co/QjTECNuwrT

— Dionne Warwick (@dionnewarwick) September 29, 2021
"A huge congratulations to Britney Spears!" wrote LaToya Jackson.
Bette Midler wrote "Congratulations to everyone who helped bring this about, especially Britney, who, after 13 years in the wilderness, never gave up until she was finally heard."

#BritneySpears is free. Congratulations to everyone who helped bring this about, especially Britney, who, after 13 years in the wilderness, never gave up until she was finally heard.

— bettemidler (@BetteMidler) September 30, 2021