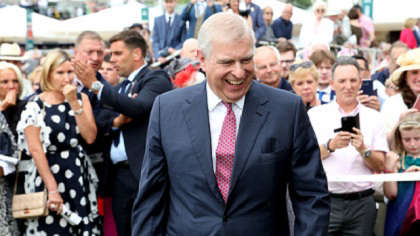 Royal aides are said to be increasingly uneasy about the "wall of silence" surrounding the under-fire duke, believing it is increasingly damaging for the British monarchy.
The tactics of Prince Andrew's legal team over his sex abuse lawsuit have come into question as courtiers believe they are is damaging the monarchy. The "wall of silence" which surrounds the 61-year-old Duke has been said to be making royal aides increasingly uneasy. Fears are arising from the apparent dodging of legal papers filed in the US which make it seem he has something to hide.
British royal courtiers fear the strategy of Prince Andrew's London-based legal team are failing him and increasingly damaging the British monarchy. Tactics employed since the Duke was first accused of sexually abusing a 17-year-old have appeared to have backfired, causing widespread unease. Showing signs of a distinct change of mood in his camp, sources say the Duke is "stressed" and "worried" of facing a legal battle which could last years and cost millions.
"There is growing disquiet over the advice being given to the Duke by his legal team in the face of this potentially highly damaging lawsuit which also has wider reputational implications for the institution of the monarchy," said a royal source. "The legal team's wall of silence and policy of evasion only adds to the impression the Duke has something to hide."
Andrew is now at Balmoral in Scotland, seemingly out of reach of English and US courts. Although a royal source has revealed; "There is growing disquiet over this lawsuit which also has wider reputational implications for the monarchy."
The legal team of US accuser Virginia Giuffre has reportedly tried seven times to serve a writ alleging "rape in the first degree". Claims have been made by Prince Andrew's accuser that she was forced to have sexual intercourse with him while she was just 17. The acts allegedly had taken place at Epstein's Manhattan townhouse, on Epstein's Caribbean island, and in London, to which the Duke vehemently denies.
Gary Bloxsome, a UK criminal defence solicitor, was hired by Andrew shortly after his Newsnight interview in early 2020. During said interview, the Duke failed in showing regret for his friendship with disgraced financier and convicted sex offender, Jeffrey Epstein, nor any empathy towards the victims. Initially, Bloxsome attempted to protect the Duke from an FBI inquiry into his friendship with the convicted paedophile.
However, the choice not to cooperate with the legal process has backfired, with US prosecutors publicly humiliating him and revealing he had provided "zero cooperation". The strategy is now feared to have proved a disaster for Andrew, who is under pressure to respond to the claim in court and faces a potentially damaging disclosure process.