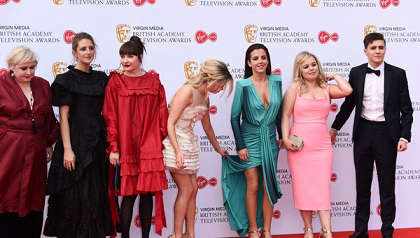 The fans of Derry Girls were left stunned as the opening episode of the final series opened up with a surprise guest star.
Somehow, the cast and crew of the Channel 4 hit managed to keep it under their hats that global superstar actor Liam Neeson would be making a shock appearance, where he played an RUC inspector.
This comes after their creator Lisa McGee had said that the episode The Night Before, took its "its tonal inspiration from Goodfellas".
Are the #DerryGirls Liam Neeson's toughest challenge yet? 😅 @nicolacoughlan @Djllewellyn @SaoirseJackson @louisa_harland @JamieLeeOD @LisaMMcGee pic.twitter.com/3QbQiDjCos

— Channel 4 (@Channel4) April 12, 2022
Neeson's character suddenly emerged from the shadows as Orla (Louise Harland), Michelle (Jamie-Lee O'Donnell), Erin (Saoirse Monica-Jackson), and James (Dylan Llewellyn) end up in custody.
"Ok, ladies," Neeson's character said, "I'd just like to ask you a few questions".
"Nice uniform," smiled Michelle approvingly.
"Thank you," Neeson replies.
"Oh, you're welcome," said Michelle.
"Not now, Michelle!" said Jamie.
"In episode two, the family hire a hot plumber who everyone starts to believe Ma Mary's having an affair with. It's fun trying to work out what's actually happening", Lisa McGee said for what's in store for next week's episode. "The gang are also going to perform in a Stars in Their Eyes concert at school for Children in Need and those two stories crash together".
Derry Girls will continue next Tuesday at 9-15pm on Channel Four.