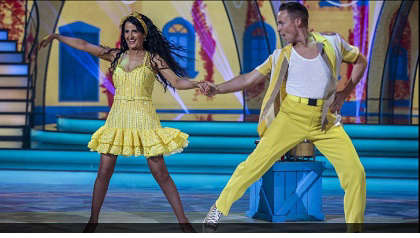 Derry Girls actress Leah O'Rourke has become the first celebrity to be eliminated from the hit show, Dancing With The Stars.
Scoring just 11 points with the judges, O'Rourke and her partner John Nolan danced the Cha Cha Cha in this week's edition of the show, which was the first one to feature the eliminations. However, the votes from the previous two shows had been carried over to this week's showing.
Speaking afterwards, O'Rourke who was known for playing Jenny Joyce on Channel Four hit Derry Girls, reacted to her elimination.
"I'm feeling okay," she replied when asked about her thoughts. "With my limited dancing ability this was always a possibility for me. When I was offered to do this I was torn . . . but I came on, I gave it a shot, and I had the best time with John".
Looking at her dance partner John Nolan, she added, "Honestly John, you've been an icon, a legend. And I'm so grateful I got paired with you".