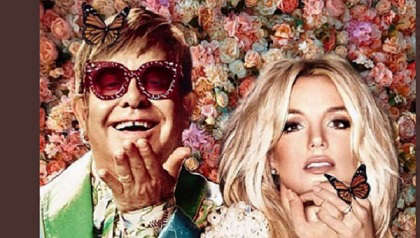 Fresh from releasing their new collaboration together, Elton John hopes that his recent duet with Britney Spears will help to restore her confidence.
The pair's collaboration 'Hold Me Closer' arrived on Friday and includes interpolations of Elton's tracks 'Tiny Dancer' and 'One', along with featuring Britney Spears of course.
In a recent interview, Elton John spoke about working so close with Britney Spears on this track in the studio. He admitted that there is still a "lot of fear there" as she has been "betrayed so many times". He also hopes that his previous struggles in the past, will help the pop star. He also added that his husband David Furnish inspired him to work with Spears.
He explained that he wanted to use that "experience" to help artists who find themselves in a "dark place".
"It's hard when you're young. Britney was broken. I was broken when I got sober. I was in a terrible place", Elton said. "A lot of artists, you'd think they'd have a lot of self-esteem but they don't, and that's why we go onstage and we get the applause, and then we come offstage and we're back to square one".
"She's been away so long - there's a lot of fear there, because she's been betrayed so many times and she hasn't really been in the public eye officially for so long", Elton John said. "We've been holding her hand through the whole process, reassuring her that everything's gonna be all right".
Elton hopes the song will "restore her confidence in herself to get back into the studio, make more records, and realise that she is bloody good". Adding that it should prove to prove a "big hit" in the charts.
Following the track's release, Britney Spears tweeted this message.
This also marks the first track released by Spears since the termination of her conservatorship of 13 years, after her father Jamie Spears stepped down as conservator last year.