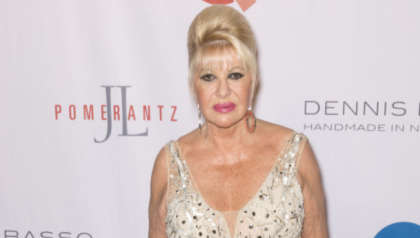 Ivana Trump was found dead in her apartment in Mahattan, New York, it has been revealed.
Ivana who was the first wife of former US President Donald Trump was found dead in her NYC apartment, after someone called 911 to report a person suffering from a cardiac arrest.
Ivana Trump had dined at her favourite Italian restaurant Altesi Restorante earlier that day, she had reportedly felt "tired" and ordered a small amount of food.
Ivana's former husband Donald confirmed her death yesterday via a statement.
"I am very saddened to inform all of those that loved her, of which there are many, that Ivana Trump has passed away at her home in New York City", Trump wrote via his Truth Social Platform. "She was a wonderful, beautiful, and amazing woman, who led a great and inspirational life".
"Her pride and joy were her three children, Donald Jr., Ivanka, and Eric. She was so proud of them, as we were all so proud of her".
"Rest In Peace, Ivana!".
Ivana was the mother of Donald's three eldest children, Donald Jr, Eric and Ivanka.
"Our mother was an incredible woman -- a force in business, a world-class athlete, a radiant beauty, and caring mother and friend", they said in a joint statement. "Ivana Trump was a survivor. She fled from communism and embraced this country".
"She taught her children about grit and toughness, compassion and determination".
"She will be dearly missed by her mother, her three children and ten grandchildren".
Ivana and Donald tied the the knot in 1977, before splitting up during the 1990s, as Donald's affair with Maria Marples became public.
Ivana held a position of vice president of the Trump organisation during their marriage, manager of the Plaza hotel, along with being CEO of Trump's casino resort.