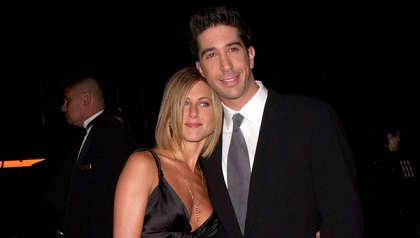 Jennifer Aniston has denied rumours that she is dating former Friends co-star David Schwimmer.
Back in August, it was reported that Aniston who played Rachel Green on the hit sitcom, was dating David Schwimmer who played Rachel's love Ross Geller. These rumours circulated after the pair had admitted to having "crushes" on each other whilst filming Friends.
A source had even told Closer Magazine, "After the reunion, it became clear that reminiscing over the past had stirred up feelings for both of them and that chemistry they'd always had to bury was still there. They began texting immediately after filming and, just last month, David flew from his home in New York to see Jen in LA".
And now, Aniston has addressed these rumours, stating that they are not true.
Referring to Schwimmer as her "brother", Aniston called these rumours "bizarre".
"That was bizarre. I could not believe that, actually", the actor told Entertainment Tonight. "Like, really? That's my brother. But I understand it, though. It just shows you how hopeful people are for fantasies, for dreams to come true".
David Schwimmer also denied these rumours through his rep.