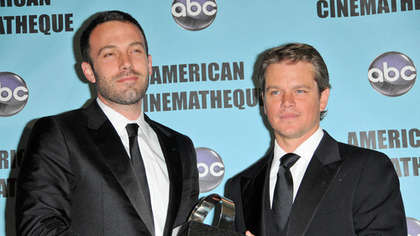 Ben Affleck and Matt Damon have revealed that their characters shared a kiss in the original script of The Last Duel.
Long-time buddies Affleck and Damon wrote the script with Nicole Holofcener, and it seems they wanted to get closer than ever before.
One scene in the Ridley Scott directed movie sees Damon's character, Jean de Carrouges, receive a knighthood from Affleck's Count Pierre d'Alençon. Affleck has revealed that the original scene they wrote featured Count Pierre locking lips with Jean.
"In the original actual version of that scene — the way that ceremony actually took place was that you kissed everybody on the mouth," Affleck revealed during an interview on US TV.
The scene was ultimately cut from the script before filming by director Ridley Scott.
"Ridley thought it would be distracting, and his instincts are pretty good," Affleck conceded.
"That would've been our first on-screen kiss," Damon said, to which Affleck responded "It's going to have to wait."
They may be childhood friends in real life, but in The Last Duel Affleck and Damon play arch-enemies.
"Yeah the two characters really hate each other and that was really fun," Damon said. "In fact, the scene where I kneel before him, Ben just improvised this thing where I started to say my line and he just interrupted me and goes, 'Closer.' And I have to kind of get up and kneel again in front of him. And that was just — he just did that and just kind of blurted that out, and it wasn't in the script."
Damon went on to joke that his friend's ego has become so swollen by his successful directing career that he now has to kneel before him in real life.
"Once he started directing, that's actually how I have to get in his house," he said.
A same-sex kiss may have helped Damon rehabilitate himself in the eyes of the LGBTQIA+ community after the actor came under fire for comments earlier this summer. In an interview, Damon confessed that he had been using a homophobic slur until recently when his daughter reprimanded him over a joke.
"The word that my daughter calls the 'f-slur for a homosexual' was commonly used when I was a kid, with a different application," he said. "I made a joke, months ago, and got a treatise from my daughter. She left the table. I said, 'Come on, that's a joke! I say it in the movie Stuck on You!'"
Following a backlash to his comments, Damon released a statement.
"During a recent interview, I recalled a discussion I had with my daughter where I attempted to contextualize for her the progress that has been made — though by no means completed — since I was growing up in Boston and, as a child, heard the word 'f--' used on the street before I knew what it even referred to," the statement read. "I explained that that word was used constantly and casually and was even a line of dialogue in a movie of mine as recently as 2003; she in turn expressed incredulity that there could ever have been a time where that word was used unthinkingly. To my admiration and pride, she was extremely articulate about the extent to which that word would have been painful to someone in the LGBTQ+ community regardless of how culturally normalized it was. I not only agreed with her but thrilled at her passion, values and desire for social justice."
The Last Duel opens in Irish cinemas this Friday. It tells the true story of the last officially sanctioned duel to be fought in France. Damon and Adam Driver play 14th century noblemen who face off in a duel to the death when the latter is accused of sexually assaulting the former's wife, played by rising British star Jodie Comer.
Damon famously found himself stranded in Dalkey when production shut down on the film due to the pandemic last year.