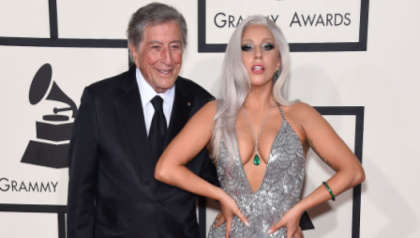 Lady Gaga and Tony Bennett have earned a last minute Emmy Awards nomination for their work on the 2021 CBS concert special, One Last Time.
Filmed at Manhattan's Radio City Music Hall last Summer, to mark Bennett's 95th birthday, the film capped off a partnership between himself and Lady Gaga, which has spanned 11 years. They first started working together on Bennett's album Duets II, which arrived in September 2011.
One Last Time has now earned Bennett and Lady Gaga a pair of Emmy nominations, in the Outstanding Variety Special (Pre Recorded) category. This category also includes Lady Gaga's long time manager Bobby Campbell, as well as Tony Bennett's son Danny.
The concert special also led to the release of Bennett and Gaga's album 'Love For Sale', which has been billed as the final release by Bennett, who is battling Alzheimer's disease.
Tony Bennett is of course no stranger to the Emmys, having won awards for similar concert specials, with Tony Bennett Live By Request: A Valentine's Special in 1996, and Tony Bennett: An American Classic in 2006.