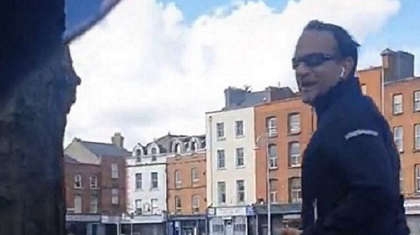 Footage has emerged of the Tánaiste Leo Varadkar receiving a barrage of verbal abuse whilst out jogging on the Dublin Quays.
The footage shows Mr Varadkar out jogging along the Dublin Quays, when a man driving his van, rolls down the window and aims this abuse at him.
In a video which was shared via TikTok, a motorist rolls down the window of his vehical, where he can be heard shouting abuse at the Fine Gael leader, branding him a "p**k". The motorist also called him a "f*****g w****r".
A number of men can be heard jeering at him, with one voice shouting "here Leo, you're a p***k".
Varadkar responds by telling them to have "a good day", as he waves to the motorist. The driver and another man can be heard laughing at the end of the clip.
Unreal pic.twitter.com/NjUTLeey9o

— Dubs life (@dubslife1) April 11, 2022
After the video was posted, many people condemned the motorists for verbally abusing Varadkar, while simultaneously praising Varadkar for keeping calm in a confrontational situation.
'You may not agree with the job he's doing but outside of work hours he's a normal person. No need for this", one viewer wrote.
Another added, 'Absolutely disgusting behaviour. #Ireland #Taoiseach (Deputy Prime Minister) @LeoVaradkar verbally abused and intimidated during his daily run. I do not understand people in the 21st century. We are seriously going backwards instead of evolving".
'Disgraceful", another viewer wrote. "Whatever your political views we all really need to ask ourselves how we expect to have a functioning political system that attracts capable leaders. If this is what they will be expected to deal with".
Leo Varadkar also said that he will speak to Justice Minister Helen McEntee over Garda presence in the city centre, following a homophobic attack which took over the weekend.
"There's a sense among the community that there has been an uptick in verbal abuse on the streets and even assaults", he said. "I am not sure if that's backed up by real evidence but it has people worried".
"It would be sad if we fell backward given how far we have come as a society".
"I am going to talk to Helen [McEntee] about it in the context of the Garda presence in the city centre and the plans to strengthen our hate crime laws".