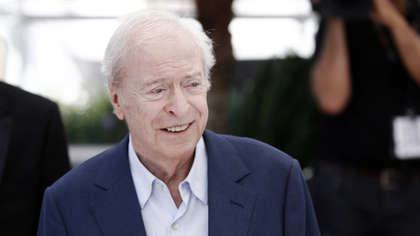 Despite suggesting his acting career is finished in a couple of interviews last week, Michael Caine has confirmed he has no plans to retire.
On Friday the 88-year-old actor was interviewed on BBC Radio's Kermode and Mayo's Film Review, where he seemed to suggest he was done with acting.
"Funnily enough, it has turned out to be my last part, really," Caine said of his role in the upcoming comedy drama Best Sellers. "Because I haven't worked for two years, and I have a spine problem which affects my legs, so I can't walk very well."
Caine went on to suggest he would now concentrate on his secondary career as a writer.
"And I also wrote a book, a couple of books, which were published and were successful," he said. "So, I'm now not an actor, I'm a writer, which is lovely because as an actor, you have to get up at half past six in the morning and go to the studio. As a writer, you can start writing without leaving the bed."
The actor continued, suggesting he was no longer being offered roles.
"There haven't been any offers, obviously, for two years, because nobody's been making any movies that I'd want to do," he said. "But also, I'm 88. There's not exactly scripts pouring out with a leading man who's 88."
In an interview published in The Guardian this morning, Caine repeated his claims of leaving the acting world.
"I can't walk, let alone run," he told the British broadsheet. "And I'm more or less done with movies now. I've done 150 movies. I think I've done enough."
Caine told the Guardian his health issues are proving a hindrance in continuing to act.
"I mean, I'm fine, I'm well," he said. "But I can't walk and I can't stand for very long and now I don't know whether my bloody memory's going. And I've worked with people like that. I worked with one actor who had all his bloody lines written on the wall because he never remembered any of them."
Caine told the Guardian he's been busy writing a novel.
"The title is If You Don't Want to Die," he said. "I only read thrillers. I'm an adventure man, I'm not a literature person, so I'm not trying to replace Shakespeare here. But it's based on something I once read about two dustmen, two rubbish collectors in the East End. And they find uranium in the rubbish."
So, has Caine left the glamour of Hollywood for a new life as an author?
Seemingly not.
In a statement released to Variety, Caine confirmed he has no plans to retire.
"Regarding retirement, I've spent over 50 years getting up at 6 a.m. to make movies, and I'm not getting rid of my alarm clock," he clarified in the statement.
Caine also took to his official Twitter account to reassure his fans he wasn't done with movies just yet.
"I haven't retired and not a lot of people know that," Caine wrote in a play on his famous catchphrase.
I haven't retired and not a lot of people know that

— Michael Caine (@themichaelcaine) October 16, 2021
In an interview with Variety in August, Caine said he would have regretted retiring if he had chosen to do so while in his sixties.
"If I retired at 65, I would never have won an Academy Award [for The Cider House Rules], I would never have done a picture with Jack Nicholson and would not have done all those movies with Christopher Nolan."
Caine can next be seen in the comedy-drama Best Sellers. In the film, Caine plays a cantankerous, reclusive author who is none too pleased to learn he owes his publisher one more novel. Releasing the book, he embarks on a promotional tour accompanied by his young publisher, played by Aubrey Plaza.