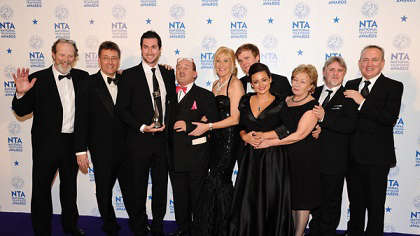 Mrs Brown's Boys is returning to D'Telly for the first time in 9 years with long-awaited fourth season.
British-Irish comedy classic, Mrs Brown's Boys is set to make its return to D'Telly for the first time in nine years. Agnus Brown makes her return to the small screen this year with a long-awaited fourth season of the hit show.
Airing last in 2013, gossip surrounding the show points to work already on the way, as a cast source revealed to The Sun: "Everyone is very excited. It's lovely to be working on another series. The cast can't wait to see Brendan's scripts."
While a second source adding: "This is something that everyone wants to happen, and we are working out the schedule for 2022/23."
With the last multi-episode run of the comedy, starring Brendan O'Carroll as Agnus "Mammy" Brown, came almost a decade ago. Although the show's Christmas specials do crop up each year, new episodes have not aired on BBC or RTÉ.
Making its television debut in 2011, Mrs Brown's Boys – staring Brendan O'Carroll, his wife Jennifer Gibney, and daughter Fiona O'Carroll - went on to capture the hearts of a nation. The show was a massive hit with fans, won multiple awards, and is shown in countries around the globe.
Starting out her characterisation O'Carroll's book, The Mammy, Agnus Brown was adapted into a film with Anjelica Huston, before her television debut. Capitalising on its huge popularity, the show also spawned a spin-off, All Round to Mrs Brown's, which aired from 2017 to 2020, as well as a feature film — Mrs Brown's Boys: D'Movie.
The Christmas special is also set to be a feature of Christmas going forward with Brendan recently revealing plans until at least 2026. Speaking in December, the star said "It's incredible that the BBC have nailed down such a special slot for Mrs Brown.
"We've been doing it in for nine years already — which is six more than the Royale Family had and more than Morecambe and Wise.
"This new deal we signed last week goes all the way to 2026, which means I will be able to grow into the part, and we've a clause in which guarantees Mrs Brown is aired at 10pm on Christmas night, or else we don't have to make it.
"I wanted that because if it's not good enough for Christmas Day, then we shouldn't be making it."