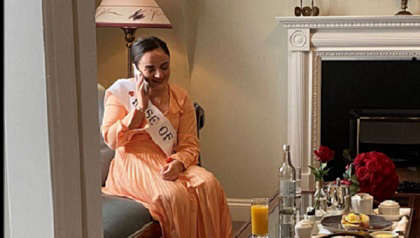 Following her victory last night, new Rose of Tralee Rachel Duffy has said that she is "absolutely blown away" by the reception she has received.
Westmeath Rose Duffy was crowned as Rose of Tralee for 2022 at last night's ceremony, which returned to our screens for the first time in 2 years following the pandemic.
"Absolutely not! Not yet!", was Ms Duffy's response when she was asked if this victory has "sunk in yet".
Rachel was also asked if plans to become a secondary teacher would be put on hold following this victory.
"I'm not sure yet, we'll see", she said. "There's so many things going around in my head at the minute, but it's definitely something that I'll have to sit down with my family and have a talk about".
"I'm young, and I've lots of time on my hands. At the end of the day, my career and my dreams to be a teacher are always something I do want to follow so we'll see".
Elsewhere, Rachel paid homage to her family, particularly her late mother, who passed away when she was 9 years old.
"This whole experience, ever since becoming the Westmeath Rose, has been very special for our family," she said. "These things are bittersweet. It's hard when someone's missing, but my mam was there in her own way last night, and I definitely feel like she was looking down on me".
"I was nine years old and my sister was twelve and my brother was fifteen, so in fairness... My dad is a very good man, and he's taken such good care of us. The people in my community got us over the line and were always there for anything we ever needed. I'm very lucky".
For now, Rachel Duffy is looking forward to a "bit of a homecoming".
"My family and friends are busy now organising that so we'll have to put on a good show for all the Roses and the escorts!", she said.