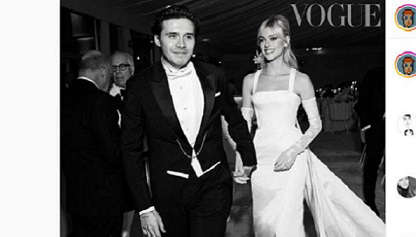 Newly married couple Brooklyn Beckham and Nicola Peltz have released photos from their wedding over the weekend.
The couple tied the knot at a ceremony last weekend (April 9), at the Peltz family home in Palm Beach, Florida. The ceremony also included guests Eva Longoria, tennis duo Serena and Venus Williams, along with Spice Girls Mel B and Mel C who were bandmates of Brooklyn's mother Victoria.
Taking to Instagram, Brooklyn, the son of legendary English footballer David Beckham shared a photo of the happy couple, where he appeared to confirm that he will be taking his wife's surname.
"Mr. & Mrs. Peltz Beckham", he added in his caption.
The list also included David's friend and TV chief Gordon Ramsey, while Mark Anthony "closed out the celebrations" as DJ.
Peltz who wore a custom Valentino gown, shared a photo of herself and her father, writing "Thank you for the most beautiful weekend of my life. You're the wind beneath my wings".
Brooklyn shared a further photo, complimenting his wife, "My beautiful bride".
British Vogue also reported that Brooklyn's sister Harper was flower girl at the event. He shared another photo alongside his brothers and father.
The ceremony itself is said to have reportedly cost £3 million.