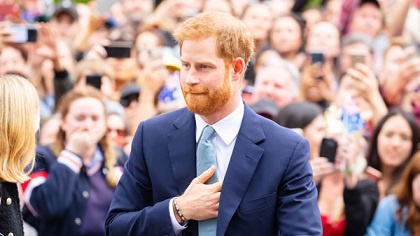 Oprah Winfrey sensationally revealed she has been working alongside Prince Harry for two years - before he quit the Royal Family. The pair appeared again in their third interview for the latest instalment of The Me You Can't See docuseries.
Talk show veteran, Oprah Winfrey has sensationally revealed she has been working on her show with Prince Harry for the past two years. The pair teamed up for new mental health documentary, The Me You Can't See where Harry has revealed some very personal details.
In the third instalment aired on AppleTV, Oprah explained that they were "inspired" to create a discussion surrounding mental health. The show queen also admits the pair have been producing the series for the past two years, before last year's 'Megxit'. At the time, Prince Harry and Meghan Markle were yet to announce their departure from Royal duties or their move to California, United States.
Oprah explained in the bonus episode that it is a project they were "inspired to produce after we first met". The pair had "talked about some of the most pressing issues of our time" and began to plot the show. "So, we spent two years making this series...together. Yes, I remember that chat very, very well all that time ago."
Royal sources have recently reported that the queen gave the Duke of Sussex, 36, her blessing to make a TV series about mental health in 2018. Sources revealed the 95-year-old signed off following a "misleading pitch" from her grandson, who pitched it as a soldiers' mental health. Had it been known; senior royals would not have agreed to the show knowing it would be a "personal attack on his father and the institution".
Royal insiders claimed that the idea came about after Harry and Oprah became close friends, having been introduced by Meghan. Harry opened up about his struggles with his mental well-being and the trauma that haunts him following the death of mother Princess Diana. The Duke accused his family of showing "total neglect" for his mental health woes, claiming Charles made him "suffer".
In the series, Harry launches blistering attacks on his other close relatives and admits to drug use and booze binges to escape his pain. Revealing he is in therapy for the past "four or five years", Harry opened up about turning his back on Britain. He also wanted to bring awareness and convince his family to "break the cycle" of grief being passed down the generations.
Harry also spoke out about his wife Meghan's mental health struggles, saying, Meghan decided to share with him the "suicidal thoughts the practicalities of how she was going to end her life". At the time, the couple claimed that Meghan had been refused help by the royal family after revealing she was struggling with suicidal thoughts during her first pregnancy. The Duke of Sussex told Oprah that the "scariest thing" for his wife was "her clarity of thought."