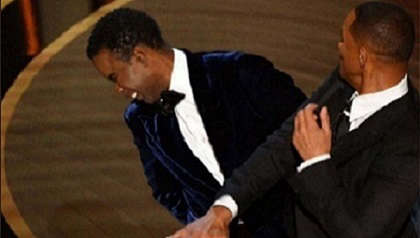 Los Angeles Police Department were "prepared" to arrest Will Smith for hitting Chris Rock in the face at last weekend's Oscars ceremony, according to the Awards' producer Will Packer.
Chris Rock was slapped in the face by Will Smith after he joked about the Fresh Prince's wife's baldness. Rock said that he would love to see Jada Pinkette-Smith in the next GI Jane film. Smith took offence to this as his wife Jada was diagnosed with alopecia in 2018.
"Keep my wife's name out of your f*****g mouth!", Smith could be heard shouting to Rock when he returned to his seat.
Smith later apologised to Chris Rock, "I would like to publicly apologize to you, Chris. I was out of line and I was wrong. I am embarrassed and my actions were not indicative of the man I want to be. There is no place for violence in a world of love and kindness".
It also emerged that Chris Rock would not press charges against Will Smith.
Chris Rock also broke his silence on the incident.
"I don't have a bunch of s*** [to say] about what happened, so if you came to hear that, I'm not… I have, like, a whole show I wrote before this weekend", Rock told the audience at a live stand up show in Boston. "I'm still kind of processing what happened. At some point I'll talk about that s*** – and it will be serious and funny".
"We can arrest him"
Oscars producer Packer has now revealed that the LAPD had spoken to Chris Rock following this altercation.
"They were saying, you know, this is battery was the word they used in that moment", Packer said. "They said, 'We will go get him. We are prepared. We're prepared to get him right now. You can press charges. We can arrest him'".
Stating that the police were "laying out the options", Packer also revealed, "And as they were talking, Chris was being very dismissive of those options. He was like, 'No, no, I'm fine'. He was like, 'No, no, no'".
"And even to the point where I said, 'Rock, let them finish'. The LAPD officers finish laying out what his options were. And they said, you know, 'Would you like us to take any action?' And he said, 'No'".
It was also reported that the police did not speak to Will Smith that night at all.