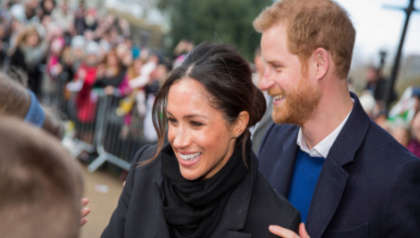 A new book which claims that Meghan Markle had a somewhat frosty relationship with close friends of her future husband Prince Harry is to be released this week (July 21).
Written by investigative journalist and British author Tom Bower, the book referes to several incidents, including one occassion when Prince Harry invited 16 university friends for a shooting weekend in Sandringham.
The book claims that oldest pals of Prince Harry clashed with Meghan Markle over her woke views, adding that she had no sense of humour. They also called him "f*****g nuts" for dating the former Suits actress.
The book also claimed from day 1 of the couple's relationship, Meghan acted "princessay" when she was interacting with them. They also accused the Duchess of Sussex for failing to make an effort and picking them up for their sense of humour.
"contravened her values"
Referring to that weekend in Sandringham, Bower writes that Meghan Markle called Prince Harry's friends out for their sense of humour, which allegedly "contravened her values".
"Like other shooting weekends, Harry was looking forward to endless banter, jokes — and a lot of drinking", Bower scribed.
"He had not anticipated Meghan's reaction", he continued. "Their jokes, involving sexism, feminism and transgender people, ricocheted around the living-rooms and dining-rooms".
"Without hesitation, Meghan challenged every guest whose conversation contravened her values".
"According to Harry's friends, again and again she reprimanded them about the slightest inappropriate nuance. Nobody was exempt".
"Harry's world would not be her world." Some of his friends later discussed their concerns about Meghan's "wokery". Bower added: "Meghan was a dampener on the party, they concluded".
"She lacked any sense of humour. Driving home after Sunday lunch, the texts pinged between the cars: 'OMG, what about HER?' said one. 'Harry must be f***ing nuts'".
"Quickly disappointed"
In the book, Bower also mentions another clash between Markle and close friends of Prince Harry.
This alleged took place during a ski trip, celebrating the marriage of Harry's Eton friend Tom "Skippy" Inskip. Some of Harry's friends and parents were present at an event of 40 guests.
"The close-knit group keenly anticipated meeting Meghan. They were quickly disappointed", according to Bower. "Not only did she quibble about the food, but she behaved 'princessy', refusing to engage with Harry's friends. She wasn't interested in us,' said one mother".
The book also explores other incidents, including Meghan's clashes with the production team at Reitman's clothing, when she was offered a contract by them. They are Canada's largest women's clothing company. However, Markle was not so keen on the company of clothes worn by an ageing clientele.
Titled, 'Revenge: Meghan, Harry And The War Between The Windsors', this book written by Tom Bower arrives on July 21.