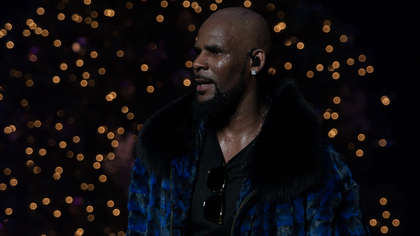 R Kelly has been found guilty of racketeering and eight counts of violating a federal law making it illegal to transport people across state lines for prostitution.
At the trial in Brooklyn, New York, the disgraced R&B singer was accused of using his star status to exploit women and underage girls for sex.
Kelly pleaded not guilty to racketeering and eight counts of violating a federal law making it illegal to transport people across state lines for prostitution. But the jury of seven men and women found the 54-year-old guilty on all counts. It took just two days of deliberations for the jury to reach its verdict.
Kelly, whose full name is Robert Sylvester Kelly, remained silent and stared at the ground while the verdict was delivered.
R. Kelly found guilty on ALL COUNTS

— US Attorney EDNY (@EDNYnews) September 27, 2021
During the trial, several witnesses spoke of how Kelly exploited them for sex while they were underage.
"Today's guilty verdict forever brands R Kelly as a predator, who used his fame and fortune to prey on the young, the vulnerable, and the voiceless for his own sexual gratification," said acting US attorney Jacquelyn Kasulis. "A predator who used his inner circle to ensnare underage teenage girls, and young women and men, for decades, in a sordid web of sex abuse, exploitation and degradation."
Kasulis concluded by saying the victims' "voices were heard and justice was finally served."
Kelly's "decade-long reign of terror over many vulnerable girls, boys and young women" had now ended, said Homeland Security investigations agent Peter Fitzhugh.
The court had heard of how Kelly employed an entourage of managers and staff to find girls for Kelly and keep them under his control. Prosecutors called the setup a "criminal enterprise."
In 1994 Kelly married R&B singer Aaliyah while she was 15 years old. His manager at the time obtained a fake ID for Aaliyah for the illegal marriage to go ahead.
In 2008 Kelly appeared in court on child pornography charges. He denied the charges and was acquitted.
In the years since, several women have claimed to have been underage victims of Kelly. In February 2019, Chicago authorities charged Kelly with 10 counts of aggravated criminal sexual abuse. In July of that year he was indicted on federal charges of racketeering and conspiracy.
Delayed by the pandemic, Kelly's trial began on August 18th of this year. Victims, mostly women but also two men, told the court of how they were groomed for sex by Kelly and his entourage. Former employees of Kelly told how they had looked the other way as the singer committed his crimes.
Representing some of Kelly's victims was lawyer Gloria Allred.
"I have been practising law for 47 years. During this time, I have pursued many sexual predators who have committed crimes against women and children. Of all the predators that I have pursued however, Mr Kelly is the worst for many reasons," she said upon the conclusion of the trial. "R Kelly thought that he could get away with all of this, but he didn't. Despite the fact that he thought he could control all this, he was wrong."
Kelly's lawyer Deveraux Cannick expressed his disappointment at the verdict.
"I think I'm even more disappointed the government brought the case in the first place given all the inconsistencies," he said.
Kelly now faces a prison sentence of up to 20 years. Sentencing is currently scheduled for May 4th, 2022.