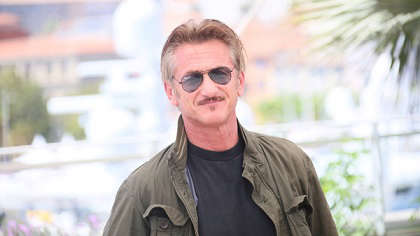 Sean Penn - currently working on a documentary - has been spotted attending a recent presidential press briefing in Ukraine. The American actor urges the United States to
Sean Penn has been pictured at a press briefing in the Presidential Office in Kyiv, as he works on a documentary in Ukraine about the ongoing Russian invasion. The actor and social activist is encouraging America to come to assist the country, which has been under attack since Thursday.
As seen in a post shared by Zelensky, Penn visited the Eastern European country last November. The actor has attended press briefings, visited with Ukrainian troops, met with Ukrainian journalists.
Taking to social media, Penn said Ukraine is the "tip of the spear for the democratic embrace of dreams. If we allow it to fight alone, our soul as America is lost." The American actor is also believed to have met Deputy Prime Minister Iryna Vereshchuk, while also meeting journalists and military personnel.
Penn has been praised by the page Facebook of the Ukrainian presidential office by writing: "Sean Penn demonstrates the courage that many others, especially Western politicians, lack. The director specially came to Kiev to record all the events that are currently happening in Ukraine and to tell the world the truth about Russia's invasion of our country."
The actor condemns Russia for invading Ukraine and its "brutal mistake of lives taken, and hearts broken." Offering words of encouragement to "President Zelensky and the Ukrainian people," Penn believes Putin will make the "most horrible mistake for all of humankind" if he does not cease attack.
Meanwhile, Variety report that Penn's documentary will be produced through Vice Studios. The actor has a long history of social activism and tackling dangerous topics during his near 40-year career. His non-profit group, CORE has also played an integral role in expanding COVID-19 vaccination and testing centres, across America.