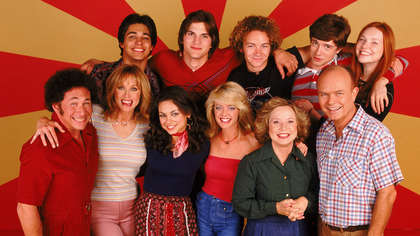 Netflix has announced that it will be producing a spin-off from That 70s Show titled That 90s Show.
As the title suggests, the new show will take place two decades after the original and will no doubt lean heavily on nostalgia for the '90s.
That 70s Show was created by Bonnie Turner and Terry Turner, who will produce the spinoff with their daughter Lindsay Turner. Greg Mettler, who worked as a producer on many episodes of That 70s Show, will serve as showrunner.
Debuting on US TV in the summer of 1998, That 70s Show ran for 200 episodes over eight seasons, concluding in 2006. Despite running for eight years, the timeline of the show played out over just three years, beginning on May 17th, 1976 and climaxing on December 31st, 1979. Over its eight seasons the series was nominated for 16 Emmy Awards.
The show focussed chiefly on a group of teenage friends played by Topher Grace, Mila Kunis, Ashton Kutcher, Danny Masterson, Laura Prepon, Wilmer Valderrama and Lisa Robin Kelly. Various adult family members were played by Debra Jo Rupp, Kurtwood Smith, Don Stark, Tommy Chong and Tanya Roberts.
Numerous cultural touchstones of the late 1970s featured in the show, such as the birth of the VCR and home video games, the disco craze and Star Wars. Of course, the outrageous fashions of the era were proudly sported by cast members. In 1999 the show's costume designer Melina Root was awarded the Emmy for Outstanding Costume Design for a Series for an episode titled That Disco Episode.
That 70s Show had a shortlived 1980s set spinoff, predictably titled That 80s Show, in 2002. Running for just 13 episodes, the show failed to find an audience despite the popularity of That 70s Show at the time.
In 1999 the British network ITV remade That 70s Show under the title Days Like These, using practically the same scripts with minor cultural details changed. That show flopped and was cancelled after only six episodes.
That 90s Show will see Kurtwood Smith and Debra Jo Rupp reprise their roles as Red and Kitty Forman, the parents of That 70s Show's central character Eric Forman. The new show will centre on Leia Forman, the daughter of Eric, whom he presumably named after Star Wars' Princess Leia. In the summer of 1995, Leia travels to Point Place, Wisconsin, the setting of That 70s Show, to stay with her grandparents. While there she makes a group of new teenage friends.
No other original cast members have been confirmed to return though it's rumoured Topher Grace, Laura Prepon and Ashton Kutcher may make guest appearances. One cast member who most certainly won't be making a return is Danny Masterson, who was arrested and charged last year following several sexual assault allegations.
Netflix has ordered the production of an initial 10 episodes of That 90s Show. That 70s Show was available for viewing on Netflix until September 2020 and drew large viewing figures for the streaming platform.
When That 70s Show began in 1998, the contrast between the show's 1976 setting and the late '90s was stark. That 90s Show will present an even longer time gap, but aside from technological developments, it doesn't feel like all that much has changed culturally between the '90s and now. Whether That 90s Show makes us wistful for an era before Facebook addiction remains to be seen.