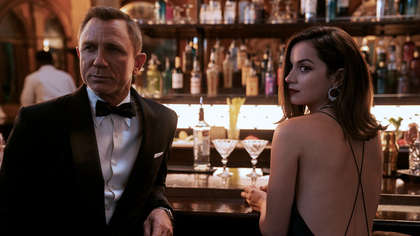 Here's our guide to the new movies opening in Irish cinemas and on Home Entertainment platforms this week.
Dementer [Arrow]
After escaping a sinister cult, a young woman takes a job as a caregiver for a Down Syndrome woman. But she begins to fear that her past is about to catch up with her.
Even Mice Belong in Heaven [Cinemas]
Traditional stop-motion animation is used to tell this story of a mouse and a fox who become friends while in heaven. But when they're returned to Earth they're expected to resume their roles as enemies.
Freshman Year [VOD]
A shy college student attends a notorious campus party at a raucous frathouse dubbed the "Shithouse". There he makes an unexpected connection with a female student. But when she ignores him the following day he attempts to reignite the spark they experienced.
Gaia [VOD]
In this trippy horror from South Africa, a park ranger runs across a father and son living a survivalist lifestyle deep in the bush. She soon discovers that they live in fear of what lurks in the woods at night.
The Gateway [VOD]
Shea Whigham plays a social worker who loses his professional cool when one of his clients' dangerous husband is released from prison. Fearing for the safety of the woman's daughter, he takes drastic action.
Hail to the Deadites [VOD]
Documentary examines the cult Evil Dead series and its dedicated fanbase.
Next Door [Curzon Home Cinema]
German actor Daniel Bruhl plays a fictional version of himself in this meta comedy. Playing an actor about to be cast in a Hollywood superhero movie, Bruhl makes the mistake of stopping by a local bar for a quick drink, only to find himself targeted by an angry drunk.
No One Gets Out Alive [Netflix]
An illegal Mexican immigrant to the US rents a room in a creepy house. She soon finds herself menaced by unnerving sounds and nightmarish visions.
No Time To Die [Cinemas]
Bond is back after several COVID forced delays, with Daniel Craig donning the tux for one last time. This time he's up against Rami Malek as a facially disfigured oddball intent on poisoning segments of the population with a virus designed to attack specific DNA strands. The movie gets off to a rousing start with an action packed opening half hour, but gets needlessly bogged down in plot as it ties up loose ends from the previous Craig-era instalments. Its bittersweet ending makes for a satisfying conclusion to Craig's time however, and surprisingly it's the female supporting cast – Lea Seydoux, Ana de Armas and Lashana Lynch – that keep the movie anchored.
Percy Vs Goliath [VOD]
Based on a real life court case, Percy Vs Goliath sees a farmer take on a large corporation in a legal battle when he's accused of using their patented seeds.
Sacrilege [VOD]
In this low budget British horror movie a group of young woman travel to the country for a weekend getaway. There they find themselves earmarked for sacrifice to an ancient pagan goddess during the summer solstice.
Séance [Shudder]
This clever genre mashup combines the horror movie with elements of the spaghetti western. When a pupil at an exclusive girls' boarding school dies as a result of a misfiring prank, a new pupil (Suki Waterhouse) becomes intent on discovering the truth behind her death.