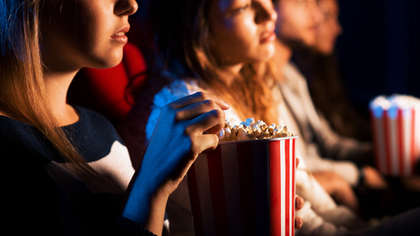 Here's our guide to the new movies opening in Irish cinemas and coming to Home Entertainment platforms this week.
12 Mighty Orphans [Cinemas]
The true story of the Mighty Mites, an American Football team assembled from a Texas orphanage during the Great Depression.
Come Play [VOD]
Heavily influenced by 1980s Spielberg, this effective horror movie sees a mother (Gillian Jacobs) try to save her young autistic son form the malevolent demon communicating with the boy through technology. You'll be confiscating your kids' tablets after watching this one.
Escape from Extinction [VOD]
Helen Mirren narrates this documentary that highlights the many animal species currently threatened with extinction due to climate change and encroaching civilisation.
The Father Who Moves Mountains [Netflix]
A retired intelligence officer uses his specific set of skills to locate his son, who went missing during a mountain hike.
Gunpowder Milkshake [Cinemas/Sky Cinema]
Female fronted shoot 'em up sees the likes of Karen Gillan, Michelle Yeoh and Lena Headey team up to take down a gang of lethal assassins.
Hall [VOD]
Guests at a hotel find themselves quarantined as a deadly virus that turns people into rabid killers stalks the hallsways.
Nightbooks [Netflix]
A wicked witch (Kristen Ritter) abducts a young boy and forces him to tell a series of scary stories to earn his freedom. This kids' movie is based on a popular 2018 book by author JA White.
No Man of God [VOD]
The latest movie based on American serial killer Ted Bundy sees Luke Kirby play the mass murderer. This one focuses on Bill Hagmaier (Elijah Wood), the FBI agent who questioned Bundy about his crimes.
Prisoners of the Ghostland [Cinemas/VOD]
Nicolas Cage claims this is the wildest movie he's ever made. Not quite, but it is pretty bonkers. Directed by cult Japanese filmmaker Sion Sono, the film sees Cage play a convict sprung from jail to rescue the kidnapped granddaughter of the leader of a post-apocalyptic land. Cage delivers yet another of his uniquely whacky performances.
Rose Plays Julie [Cinemas]
This acclaimed Irish thriller stars rising star Ann Skelly as a teenage Dubliner who learns she was born as the result of a sexual assault. Tracking down her birth mother (Orla Brady) and the man (Aidan Gillen) who raped her, she sets in motion a plot for revenge.
Schumacher [Netflix]
Documentray tells the story of the Formula One legend's meteoric rise in the high speed sport.
Small World [Cinemas]
Polish thriller follows a cop obsessed with finding a young girl abducted by the Russian Mafia due to a mistake he made earlier in his career.
The Story of Looking [Curzon Home Cinema]
Inspired by having surgery on his eyes, cinephile Mark Cousins delivers a documentary that examines how our sight shapes our relationship with the world.
The Stronghold [Netflix]
Inspired by a true story, this French thriller sees a trio of frustrated Marseille cops employ underhanded tactics in their quest to take down a drug gang.
Triggered [VOD]
A group of campers wake up with bombs strapped to their chests, all with varying countdown timers. Can they figure out how to escape their predicament before being blown to pieces?
The Wonderful: Stories from the Space Station [VOD]
Documentary gives the men and women who have worked on the International Space Station the chance to speak about their literally out of this world jobs.