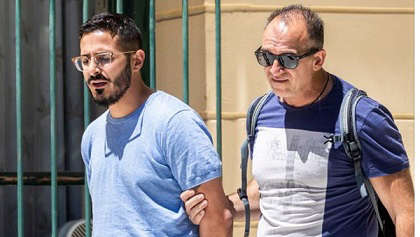 The 'Tindler Swindler' aka Shimon Hayut has blasted the new Netflix documentary claiming that they "made up a movie". He also claims that he is in fact a perfect gentleman.
Using the alias Simon Leviev, Hayut allegedly conned several women into giving him hundreds of thousands of dollars on dates.
Apparently he would tell his date that his father was a billionaire Russian-Israeli diamond mogul. He would plead with his dates asking for money, claiming he was in danger and needed the cash to protect his identity.
It was also claimed that Hayut referred to himself as the "Prince of Diamonds" in order to meet members of the opposite sex on Tinder, before sweeping them off their feet with his apparent lavish lifestyle.
Hayut also maintained this deception by walking out in designer gear, travelling on private jets, driving flash cars, along with attending hot spots across the globe.
Netflix have since released this documentary, calling Hayut a fraud and exploring how he conned these women into parting with their money. The documentary shared the stories of Cecille Fjellhoy, Pernillia Sjoholm and Ayleen Charlotte. These women are still paying off debts after allegedly fallen victim to Hayut.
"I'm not a fraud"
And now, Hayut has hit back. Speaking for the first time since the documentary's release, Hayut spoke to Inside Edition in a two part chat where he denies any nafarious conduct.
Hayut protests his innocence the fact that he was arrested and charged with fraud, theft and forgery. He also spent 5 months in prison, before being released in May 2020.
Hayut was also charged with defrauding three different women and spent 2 years in a Finish prison back in 2015. He was also extradited back to Israel in October 2019, having fled the country in 2017 to avoid facing trials for fraud related crimes.
He was then sentenced to 15 months in prison and ordered to pay $43,289 in compensation. He was then released 5 months into his sentence.
Hayut's chat with Inside Edition will be released today and tomorrow. Appearing alongside his girlfriend Kat Konlin, Hayut maintains he is not a fake.
"I'm not a 'Tinder Swindler", he says during a preview clip. "I'm not a fraud and I'm not a fake. People don't know me - so they cannot judge me".
He continued, "I was just a single guy that wanted to meet some girls on Tinder". He also claimed he is the "biggest gentleman". Adding that Netflix "presented it as a documentary", Hayut added, "In truth it was a made-up movie".
Hayut also recently joined Cameo, where he will be able to send a special message to people for a price, with his boi reading "Excited to be on Cameo to wish the special person in your life whatever you need!".
He is charging $300 for birthday messages and $1,400 for any business content.