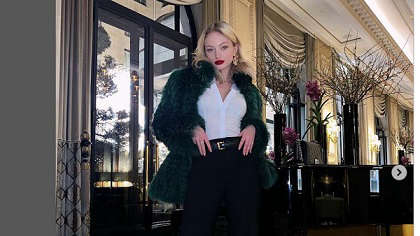 The new girlfriend of Simon Leviev aka The Tinder Swindler has broken her silence since the much talked about Netflix documentary.
Israeli model Kate Konlin has shared her feelings about the controversial documentary.
This documentary follows the allegations of Ayleen Charlotte, Cecilie Fjellhøy, Pernilla Sjöholm who claim that Simon Leviev whose real name is Shimon Hayut conned them out of thousands of dollars after dating him.
Speaking to Inside Edtion, Konlin states that she does not believe these women, and claims that her boyfriend has never even asked to borrow money off her.
"My god, it is like, how someone can build such a fake story", she exclaimed.
When asked if Shimon Hayut has ever asked her to lend him money, she said "Course not," before laughing.
Speaking alongside his partner, Hayut once again protested his innocence, eschewing his identity as "The Tinder Swindler".
"I was just a single guy that wanted to meet some girls on Tinder. I am not a Tinder Swindler", he insisted. He claimed that he made his money from the rise of Bitcoin in 2011.
He continued, "I'm a legit businessman. I got into Bitcoin in 2011, it was nothing. I don't need to say how much it is worth now..."
"I feel bad for something that I didn't do? No, I feel bad for whatever happened to myself. I want to clear my name".
"I want to say to the world, this is not true".
The Tinder Swindler is available on Netflix. Check out the trailer below.