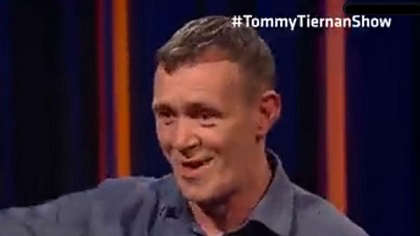 A guest on the Tommy Tiernan show has been praised by viewers for his honest opinion on an old taboo term, Tinker. Thomas McCarthy reflected on his Traveller heritage and explained why he takes no offence to the taboo phrase.
Viewers of the Tommy Tiernan show have been praising one particular guest on Saturday night's show, storyteller and singer Thomas McCarthy. While reflecting on his Traveller heritage, Thomas took the time to explain why he personally takes no offence to the term tinker.
Sharing his tales with kids across Ireland, Thomas left viewers wanting to know more about the man himself, who beg for his return to television. While enthralling the audience in a captivating focus, the talented singer laid claims regarding the Travelling community as "custodians" of song.
Although Tinker has formerly been used in a derogatory manner in the past, using it these days is generally frowned upon. However, Thomas takes no offence but pride in the term and uses it to represent his heritage and the roots.
"The tinker was a metal worker. It's used as a derogatory term, tinker, but I embrace it myself. It's what my ancestors were, they were metal workers and I'm not ashamed of that," he said. Thomas feels it is his incredible background which has formed his prowess in storytelling and teaches students of the Travelling community and its plight.
"I tell them travelling stories which are sympathetic towards the Traveller. If you didn't have sympathy, you should go and see a doctor," Thomas exclaimed. Continuing on with his enthralling story, he passionately told the audience of his ancestors' love for song, and how they originally made Ireland musical.
"It was our people who brought them all around the island. A new song for a Traveller was like a new prayer for a religious person. They adored songs. Every Traveller family had a great store of songs."
Following his spot on the chat show, Thomas has been bombarded with praise on social media as fans quickly demanded more of the singer/storyteller.
One excited viewer said they would have "loved to have heard more from Thomas McCarthy – maybe a once off documentary #TommyTiernanShow." While another said, "Thomas McCarthy some fella, a modern day Seanchaí, I'd happily sit there all evening sipping pints listening to him #TommyTiernanShow."
One viewer had been so captivated by Thomas, they said; "Watched Thomas McCarthy the traveller storyteller and singer on #TommyTiernanShow and what a man. I'd love to sit and talk with him. Amazing man would be an education."
The Tommy Tiernan show airs Saturdays at 9.50pm, on RTE One.
"If you don't have sympathy, you should go and see a doctor."

Storyteller Thomas McCarthy talks about sharing stories that are sympathetic to travelling people@Tommedian #TommyTiernanShow pic.twitter.com/JRIS8IZElV

— RTÉ One (@RTEOne) February 26, 2022
Powerful song by Thomas McCarthy. Mo cuishle. My pulse. Haunting song. Beautiful. #TommyTiernanShow

— Shannon Forrest (@waittilitellya) February 26, 2022
Only February & already Thomas McCarthys chat with Tommy is the highlight of 2022#TommyTiernanShow

— Maitiu Dubhghaill (@adhddoyle) February 26, 2022