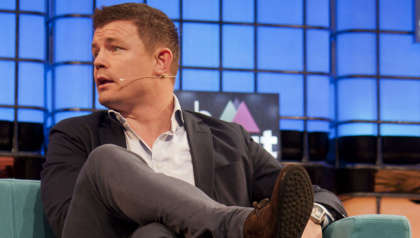 Brian O'Driscoll has shed further light following a recent mishap, which led to the former rugby star returning home with the wrong dog.
Earlier this month, O'Driscoll revealed that he returned home from the groomers with the wrong dog, after spilling the beans with a comical social media post.
Taking to social media, Brian O'Driscoll clearly embarrassed wrote, "When you take the wrong dog all the way home from the groomers. I just thought all the black had been sheared off her face".
O'Driscoll admitted that he only realised that he had taken the wrong dog when he returned to the family home, instead of their dog Phoebe.
"I had my concerns", O'Driscoll admitted. "They bring one dog out and I see the willy and I'm like no no that's not her then they bring another one out and it looks pretty like Phoebe in my mind and it jumps up on me and I'm like 'It's Phoebe'".
"I'm on a call at the time and I pick her up and I throw her into the back seat of the car and we drive away and she's very quiet in the back seat of the car and she gives out a yelpy bark and I've not heard that one before and thinking she really isn't feeling herself", he added.
"I get home and the penny dropped when I opened the car door and she wouldn't jump out. It was too high for her and I was like 'really?'".
"I was like 'Oh no' and that was when my concerns began".
It did not take long for Brian's wife Amy Huberman to have a laugh about the incident at her hubby's expense.
While he refused to blame the groomers regarding the mishap, there was one person who is to blame for all of this as far as Drico is concerned.
"People are blaming the groomers and let's be clear, there is only one person to blame in this and that's Amy Huberman for allowing me to go and collect said dog", he said.
"When she handed the dog into the groomers, it was a new girl and then someone different collects them and she's like 'sorry I don't know Phoebe', and as an owner for the last two years, I should probably know someone more than her what my dog looks like, so people that were giving out about the groomer giving out the wrong dog but the problem lies squarely with me picking up the wrong dog so I won't have that".
"We love our groomers".