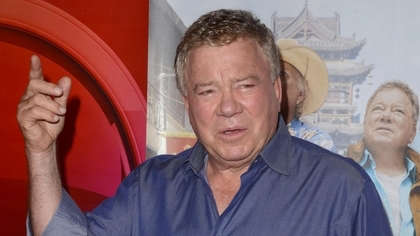 William Shatner made history on Wednesday by becoming the oldest person to leave Earth.
The 90-year-old Star Trek icon got to follow in the footsteps of his most famous character, Captain Kirk, thanks to Jeff Bezos' aerospace company Blue Origin.
Shatner was part of a four-person crew aboard the New Shepard rocket, which launched from a site in West Texas on Wednesday afternoon.
Also aboard were Blue Origin's vice president of mission and flight operations Audrey Powers and crew members Chris Boshuizen and Glen de Vries.
The New Shepard vehicle can seat six crew members and is fully autonomous, meaning it requires no pilot. According to Blue Origin's website, the New Shepard is "designed to take astronauts and research payloads past the Kármán line — the internationally recognized boundary of space."
Safety tests have been carried out on the craft since 2015.
The launch was originally meant to take place on Tuesday but Blue Origin announced over the weekend that it would be delayed due to weather conditions.
"Due to forecasted winds in West Texas we are pushing #NS18 launch target to Wednesday, October 13," Blue Origin wrote on Twitter.
While Shatner claimed he was "deeply disappointed" by the delay, he told Good Morning America that he was no less enthusiastic for the adventure.
"What's a day with this extraordinary experience that we're about to have?" he asked.
Last week Shatner appeared at New York Comic Con, where he addressed his pending voyage.
"I'm Captain Kirk, and I'm terrified going to space," he told fans at the event. "You know, I'm not really terrified. Yes, I am. It comes and goes like a summer cold."
"It's life-changing in its way, not because of the aerial adventure, but because of the people I'm meeting," Shatner said during a livestream of the historic launch on Wednesday.
"We're just at the beginning, but how miraculous that beginning is — how extraordinary it is to be part of that beginning," the actor said of space exploration.
Shatner, Powers, Boshuizen, and de Vries were joined on the launch pad by Amazon billionaire Bezos, who closed the rocket's hatch after they had entered.
Writing on Instagram, Bezos revealed that he gave Shatner a replica of a Star Trek tricorder to take on the trip to space.
"I made these tricorders and communicator to play Star Trek with my friends when I was 9 years old, and my incredible mom saved them for 48 years," Bezos wrote. "She dug them up this past week, and William Shatner has agreed to take them up into space for me tomorrow. Please don't judge me for the artwork. Thank you, Bill!"
"That was unlike anything they described," Shatner said as the capsule descended back to Earth. "That's unlike anything I've ever experienced."
"I hope I never recover from this," Shatner said upon returning to Earth. "I'm so filled with emotion about what just happened. It's extraordinary, extraordinary. It's so much larger than me and life. It hasn't got anything to do with the little green men and the blue orb. It has to do with the enormity and the quickness and the suddenness of life and death. To see the blue colour whip by you, and now you're staring into blackness … everybody in the world needs to do this. Everybody in the world needs to see this."
While Shatner fans celebrated their idol's historic venture, not everyone was happy with the event.
The Duke of Cambridge Prince William criticised the current "space race" being contested by billionaires Jeff Bezos, Elon Musk and Richard Branson. The Prince believes the money and resources should be spent in the battle to defeat climate change.
"We need some of the world's greatest brains and minds fixed on trying to repair this planet, not trying to find the next place to go and live," he told the BBC.