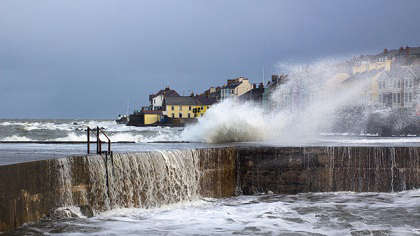 A man has died after being fatally injured while attending to the debris from Storm Eunice.
Storm Eunice claimed the lives of at least 3 people as record wind gusts tore a destructive path through the continent. A council worker in his 50s was killed by a falling tree as he attended work in Wexford, clearing storm debris. Further deaths occurred in The Netherlands with one person trapped under a fallen tree in the capital, and another when a tree toppled onto their car in Diemen.
The incident close to the Wexford-Wicklow border occurred late this morning, while attending clear up duties for the Council. Working with a colleague when the incident took place, the man had been struck by a fallen tree. A full Garda investigation is underway, while the Health and Safety Authority will also be carrying out a full investigation.
The man, who hailed from an area in North Wexford, was well known by people in the local community, and loved by many. The County Council has expressed its condolences to the man's family.
Local councillor Anthony Donohoe, who lives nearby, said the whole area is shocked by what happened. He said: "This is a very rural community, we're just devastated, numb for the family and the staff of Wexford County Council who have lost their colleague in this terrible incident today." Donohoe added that everyone who knew the man is "numb with sadness and shock."