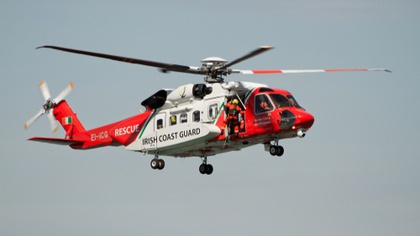 Three teenage boys have been rescued after becoming stranded on rocks at Myrtleville beach near Crosshaven.
The boys found themselves trapped late Sunday afternoon when the tide rose, leaving them stranded on rocks between Fennel's Bay and Church Bay.
Crosshaven Coastguard and Crosshaven RNLI were alerted and arrived at the scene at around 6pm. The RNLI deployed their 'John and Janet' rigid inflatable inshore lifeboat, with a crew member donning a helmet and drysuit to swim to the boys and check on their condition.
The RNLI and Coastguard agreed the best course of action would be to winch the boys to safety by helicopter. The Coastguard's R117 helicopter was dispatched from its Waterford base and the boys were winched off the rocks.
Displaying signs of hypothermia, one of the boys required treatment and was taken to hospital as a precautionary action.
In a statement subsequently released, Crosshaven RNLI said "Just after 18.15 this evening Crosshaven Coast Guard (boat and shore teams) along with Rescye 117, RNLI Crosshaven Lifeboat Station, National Ambulance Service and An Garda Síochána were tasked to an incident between Fennel's Bay and Church Bay. 3 persons had been cut off by the tide and were unable to get back to safety."
They hailed the collaboration of the Crosshaven Coastguard and Crosshaven RNLI as an example of "Great interagency work," and reminded the public that "if you see someone in trouble on our coasts or waterways dial 999/112 and ask for the Coast Guard."