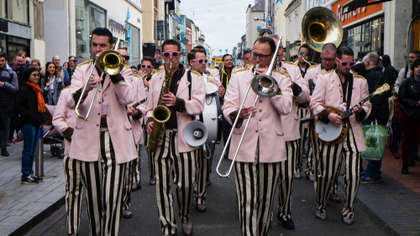 The Cork Jazz festival returns next weekend but with both Cork Airport and the city's Kent station closed, there will be no direct airport or train services available.
Cork airport is closed until November due to work on the runway. Kent Station will be closed due to work on a new signaling service.
Cork Jazz was cancelled last year due to the pandemic.
Iarnród Éireann has issued an apology after announcing that Kent station will not be open to intercity trains from Dublin. Commuter links from Cobh, Midleton and Mallow will also be unavailable. A bus service from Mallow and surrounding areas has been arranged to bring train users into the city.
Iarnród Éireann spokesperson Barry Kenny said the work was "planned at a time when it was understood there would be no Jazz festival this year."
"The project is running to schedule and we look forward to reopening at 02.00 on November 22, 2021 in anticipation of a busy festive season ahead," A spokesperson for Cork airport said.
"The airport is essential works – they have to be done – to quite honest it's just unfortunate that it is happening during the Jazz weekend," said Cork's Lord Mayor, Colm Kelleher. "Nonetheless, we won't cry over spilt milk but it's unfortunate what's happening with the rail station as well. But that being said Cork is open for business."
"We didn't have the jazz weekend last year on account of Covid but I've spoken with hoteliers, hospitality and restaurant owners and retailers across the city and they are gearing up for a great weekend," he added. "We're going to have live music back in the city, in the traditional manner that we had it in previous years. We may not have the international reach we've had in previous years, but I would implore anyone who is interested in jazz or just in a good time, to head for Cork next weekend."
Cork Jazz organisers will be hoping the government sticks to its plan of lifting restrictions on late night hospitality on October 22nd. With COVID case numbers rising, it's now feared that the reopening will be delayed.