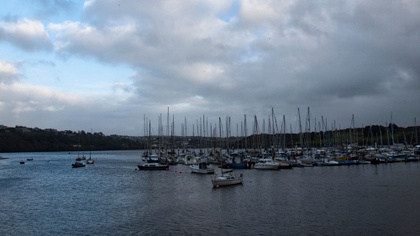 Skeletal remains retrieved from a car found submerged off Hugh Coveney Pier at Crosshaven on May 26th have now been identified as those of missing man Barry Coughlan.
Coughlan has been missing since his disappearance on May 1st, 2004, when he was last seen outside the former Moonduster Bar in Crosshaven in the early hours of the morning. Gardaí conducted searches of the Owenabue River at the time but could find neither Coughlan nor his car, a red Toyota Corolla hatchback.
On May 26th of this year, Gardaí pulled the car from the river. While testing equipment in the river, Cork City Missing Persons Search and Recovery (CCMPSR) unit discovered the submerged vehicle and alerted Gardaí, who launched an investigation and alerted Coughlan's family to the discovery.
Divers from the Garda sub-aqua unit found the car resting upside down on the river bed, where it had become deeply embedded in mud and silt.
The car was pulled from the river by a crane and taken away for forensic examination. Skeletal remains found inside were sent to Cork City Morgue.
Forensic Science Ireland confirmed that following DNA analysis, the remains have been identified as those of Coughlan, who was 23 at the time of his death.
Investigating Gardaí are currently preparing a file for the coroner.