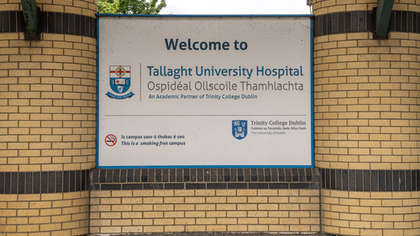 A memorial to those who died as a result of COVID-19 has been unveiled at Tallaght University Hospital.
Known as "The Heart Memorial", the sculpture was erected by the hospital's chapel and contemplation room.
Along with those who died from the virus, the memorial is also dedicated to the grieving families and healthcare workers.
Sculptor Mark Ryan was inspired by the hospital's practice of placing handcrafted hearts in the hands of dying patients and giving an identical heart to the next of kin.
"Your loved one was not alone, we cared for them, we stayed with them," said the hospital in a message to grieving families. "Life has to end, love doesn't - a pair of identical hearts, one is with them and this heart is for you made with love."
"The image of the identical hearts incorporated into a permanent memorial commemorates this tragic time of COVID-19," Said John Kelly, the hospital's Director of Pastoral Care. "It serves as an everlasting tribute to beautiful lives well lived and worth remembering."
"This memorial provides us all with a space to honour those that have died in our hospital but also for those of us that have lost loved ones during this pandemic," said Lucy Nugent, the hospital's Chief Executive. "It also recognises the dedicated care provided by staff throughout this pandemic who have and continue to contribute to the care of end-of-life patients with courage, selflessness and dedication. The COVID-19 Memorial ensures that there is a special location where family members and hospital staff can pause and remember, a reminder that loved ones lost to us are forever in our hearts."