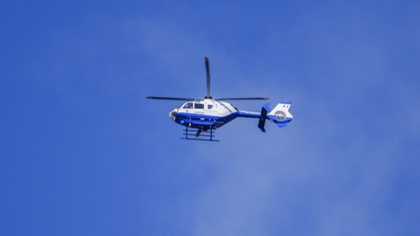 The Garda helicopter was called into action yesterday, June 16th, amid reports of an armed man on the loose in North Dublin.
At approximately 8pm on Wednesday evening, a premises in the Applewood Village area of Swords was raided by a man who threatened staff. He was believed to be armed with a stun gun.
Gardaí arrived at the scene and began conducting an extensive search of the area before a Garda helicopter took to the skies above nearby Malahide.
Residents of the North Dublin suburbs reported the helicopter shining lights into gardens as it conducted its search for the suspect. Footage of the helicopter in action recorded by Malahide locals was shared on social media.
A Garda spokesperson said "Gardai received reports of a male allegedly brandishing a stun gun in the Applewood Village area of Swords. This is reported to have occurred on 16/06/2021 at approximately 7.40pm. Gardaí attended the scene and carried out an extensive search and enquiries in the area. Nothing detected at this stage. Enquiries are continuing."