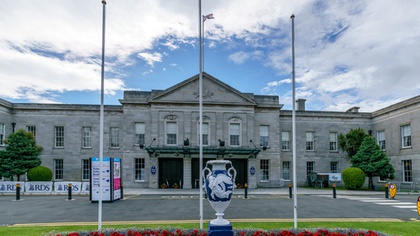 The inquest into the death of George Nkencho opened this morning at the Dublin coroner's court at the RDS, but has now been adjourned for six months with GSOC investigations ongoing.
Nkencho died after being shot by Gardaí at his home in Clonee, County Dublin last December. He had been suffering mental health issues at the time and was allegedly armed with a knife.
The Nkencho family's solicitors read a statement in which they urged the court to consider "broader circumstances of the death of a young black man at the hands of white police officers."
Coroner Dr. Myra Cullinane said she will not be able to begin the inquest until the GSOC investigation has been concluded and expressed her "deepest condolences" to family members of the deceased.
Family, friends and supporters of the Nkenchos gathered outside the RDS, where a statement was read on behalf of the family calling the inquest a "necessary milestone." "This can never, never happen again," the statement stressed.
Demonstrations were held by activist groups including the Justice for George Nkencho Coalition, Youth Against Racism and Inequality (YARI), and United Against Racism. Former Dublin West TD and activist Ruth Coppinger said she was present to help "give support to the family themselves on such a harrowing day."
The GSOC investigation is expected to be completed by the end of the year.