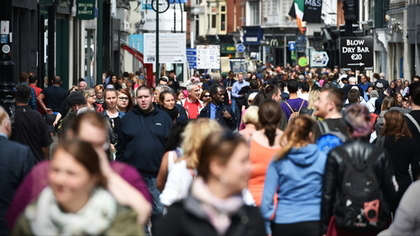 Ireland's population is estimated to have risen above five million for the first time since 1851.
Figures released by the Central Statistics Office show the population to currently stand at 5.01 million.
The last time Ireland recorded a population higher than five million was in the census of 1851 with a population of 5.11 million in the 26 counties and 6.6 million on the island overall.
In the year to April 2021, the population grew by 34,000 (0.7%) through a combination of net migration and natural increase. This was down from the previous year's increase of 55,900 (1.1%).
The year to April recorded 55,500 births and 32,700 deaths for a natural increase of 22,800. This is the smallest increase since 2000.
65,200 immigrants arrived in the year to April, with 54,000 emigrants leaving. This gives a positive net migration total of 11,200 down from 28,900 the previous year.
22,800 (42.2%) of the 54,000 emigrants are estimated to be Irish citizens. The number of Irish citizens returning was 7,300 higher than those who left the country.
The CSO estimates Dublin's population to be 1.43 million, 28.5% of the nation's population.
The population aged 65 and over increased by 22,200 (3.1%).
Ireland's population was estimated to be just over five million in April 2021https://t.co/pbbSpBVBqF pic.twitter.com/jp8iSY9typ

— Central Statistics Office Ireland (@CSOIreland) August 31, 2021