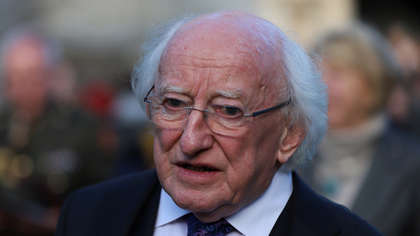 President Michael D. Higgins has defended his choice to decline an invitation to attend a commemorative church service in Armagh next month.
The service, hosted by Northern Ireland's four main churches, will mark the centenaries of the partition of Ireland and the foundation of Northern Ireland.
Ahead of a meeting with Pope Francis at The Vatican, President Higgins told reporters that the politicisation of the service made it impossible for him to attend.
Some have accused the President of snubbing Queen Elizabeth II, who is set to attend the service.
"I am not snubbing anyone and I am not part of anyone's boycott of any other events in Northern Ireland," he confirmed. "I wish their service well but they understand that I have the right to exercise a discretion as to what I think is appropriate for my attendance."
"I think it is highly regrettable that President Higgins feels that this is something to do with politics rather than people and marking what is a historic moment for all of us," DUP leader Jeffrey Donaldson said of the President's decision. "I think when you consider the enormous steps towards reconciliation that were taken by the Queen when she visited Dublin ... I think it is regrettable that the head of state of the Republic of Ireland felt he cannot attend this service. It's not about politics, it's about hope and reconciliation."
Addressing the criticism from the DUP, President Higgins accused the loyalist party of hypocrisy.
"I have gone up to Northern Ireland to take part in events," he retaliated. "There often has not been a great deal of traffic down from the DUP people who are criticising me now."