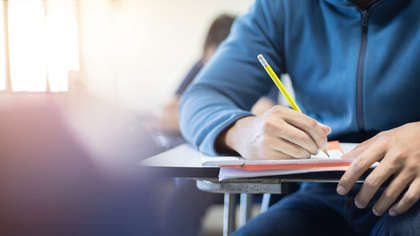 Minister for Education Norma Foley has ruled out an accredited grades option for this year's Leaving Certificate.
On Tuesday morning cabinet agreed that the Leaving Cert would return to its exam form in June.
The number of in-class assessments for the Junior Cert is also set to be reduced.
"I can confirm that the decision is now that the Leaving Cert exams will take place in June, but they will be radically different exams to what students experienced in previous years, in 2019 and 2018," Foley announced.
Foley said an accredited grades system was given consideration but it was decided it would be unfair due to many students having missed their Junior Cert. Of this year's sixth-year students, as many as a quarter did not sit the Junior Cert due to its cancellation during the pandemic.
"We would not be in a position to provide for the accredited grades in a system that would be as fair as was provided for last year," Foley said.
Foley also revealed that there will be less material to study for this year's exams, and that students will be given more options of questions.
Anyone who misses the exam due to COVID can sit an alternative exam held at a later date.
Opposition politicians have expressed their disappointment at the announcement.
"This year's Leaving Cert students have suffered two years of upheaval and chaos because of Covid," said Social Democrats Education Spokesperson Gary Gannon. "There have been lengthy school closures and persistent absences, of both students and teachers, due to illness caused by COVID and the requirement to self-isolate. We must also acknowledge the incredible stress, and anxiety, that students have been under as a consequence of COVID. This year is not a normal year, so we cannot have a 'normal' Leaving Cert. The lived experience of Leaving Cert students, throughout these unprecedented two years, must be acknowledged by Minister for Education Norma Foley. It cannot be business as usual – simply because that makes life easier for the Minister and her Department."
"I find this an extremely disappointing decision from a department that seems to be completely incapable of looking beyond the more conservative option that they always seem to revert to – there's no imagination with any data apart from that they're completely rigid when it comes to change," said Labour spokesperson on Education Aodhán O Ríordáin. "They are welded to the old traditional leaving cert, which most people think is quite a brutal exam and needs to be radically reformed."
Sinn Féin leader Mary Lou McDonald called the decision "disgraceful."
"Government showing total and shocking disregard for LC students whose learning has been and continues to be disrupted," she tweeted. "No thought it seems for mental health consequences. Disgraceful. Students must be given choice. Govt must be fair."