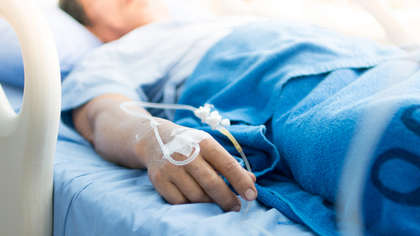 University Hospital Galway is under extreme pressure once again today with numerous Emergency Department patients left without a bed.
The hospital has advised the public to expect long waiting times at its emergency department today due to a surge in patients. They are asking the public to present themselves only in the case of genuine emergencies. Everyone who presents at the Emergency Department will be treated strictly in order of medical priority.
"We regret that patients are currently experiencing long waiting times to be admitted from the ED to an acute bed in the hospital," a statement from UHG said.
Anyone attending the emergency department must wait on their own in order to ensure social distancing.
According to the Irish Nurses and Midwives Organisation, at 8am on Monday morning 25 patients were left without a bed at UHG. 23 of those were on trolleys with two going without beds on wards.
Today UHG has the second highest number of patients with COVID-19 of all Irish hospitals. 27 COVID patients are being treated with five in the ICU.
"If your health problem is not an emergency you should contact your GP during normal surgery hours or the Westdoc GP Out of Hours service, in the first instance," UHG advised in a statement. "We would also like to remind patients that the Injury Unit in Roscommon University Hospital is open from 8am to 8pm, 7 days a week, 365 days a year to treat a range of injuries in both adults and children over five years of age."