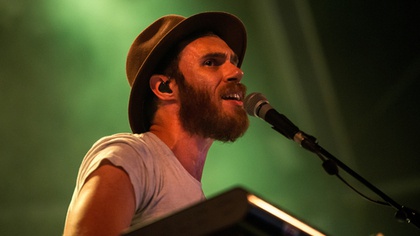 A return to the old normal for Ireland's live music lovers will begin on Thursday night when singer/songwriter James Vincent McMorrow steps out on stage at the Iveagh Gardens.
The concert is the first of several planned pilot events that will determine the nation's ability to return to staging live entertainment with crowds. Micheál Martin says the events will "test the logistical requirements for further reopening."
With a reduced capacity of 500, tickets for McMorrow's gig sold out within minutes of going on sale to the public, an indication of the hunger for a return to live entertainment after a 15 month shutdown for the sector.
Dubliner McMorrow told RTE that he's "predicting tears" at what will be an intimate but nonetheless historic gig, and said he has been "dreaming of walking out on stage for the first time in a year and a half in front of people." It will be the singer's first live performance since playing to a crowd in Los Angeles back in February, 2020.
The concert comes ahead of the release of McMorrow's latest album, Grapefruit Season, on July 16th.
Joining McMorrow at the unique concert will be Dublin singer Sorcha Richardson.
Special requirements have been put in place for the concert, which will be standing only with attendees grouped in pods of a maximum of four people. Socially distanced (two metres) queuing systems will be in operation. Masks must be worn but can be removed while in your pod. To avoid large crowds at entry points, attendees will be assigned specific, staggered arrival times.
On the afternoon of Wednesday, June 23rd, Limerick University Concert Hall will host the first test event outside Dublin. 519 concert-goers (50% of the venue's total capacity) will be allowed to attend a performance of the works of composers Bernhard Molique and Astor Piazzolla by the Irish Chamber Orchestra. It will be the first indoor event with a live audience since March, 2020. Sinead Hope, director of the UCH, called the event "An important first step towards reopening the arts industry," while Arts Council Director Maureen Kennelly called it "a great first step."
The first larger scale event is currently scheduled to take place in the Phoenix Park on Saturday, June 26th. An outdoor music festival with a crowd of 3,500 was initially announced, however it's now unclear whether the event will go ahead. The Department of Culture and the event promoters have reportedly yet to agree on costs, with tickets rumoured to cost €200 per head for the event to break even. Should it go ahead, the event will be fully seated. No acts have been announced as of yet.
On the same day, a more intimate concert will take place at the INEC Club in Killarney, Co. Kerry. 200 people will be allowed to attend a fully seated indoor music performance.
The usually lively Galway music venue Róisín Dubh will host a trad music event on July 3rd. Attendance numbers have yet to be announced. On the same evening a comedy gig will be held in Dublin's Vicar Street.
Cork Opera House is the venue for a live performance by the Irish National Opera on July 10th, while in late July the first nightclub event will take place at Jam Park, Swords.
Along with live music, several sporting events will be welcoming back spectators over the course of the summer, beginning with 1,200 fans at Leinster's game against Dragons at the RDS this Friday, June 11th. On the same night 1,000 fans will return to the Tallaght Stadium to watch Shamrock Rovers take on Drogheda, while at Turner's Cross 600 fans will see Cork City host Cabinteely. On June 20th, 3,000 camogie fans will be in Croke Park for the National League Finals. 400 people can attend the Athletics Ireland National Championships at Morton Stadium on June 26th.
With more events expected to be announced for later this summer, it seems the entertainment sector is finally getting back on its feet.